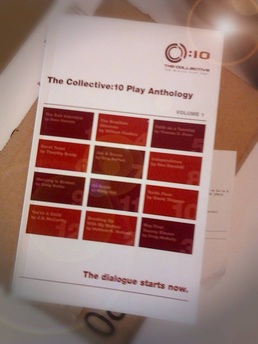 Or as Steve Martin said in his classic film,
The Jerk
, "The new phonebooks are here! The new phone books are here!"
If you don't remember that classic comedy (written by Martin, Carl Gottlieb & Michael Elias, and directed by Carl Reiner), it's
funny
. And it's how I feel about being in this one-of-a-kind tome.
The book has my name on the cover and inside you'll find my play,
Joe & Becca
, and eleven others. Turns out The Collective publishes, too! All of the Collective:10 Festival plays in one book and there's a book release party at Drama Book Shop December 9 in Manhattan. Folks having drinks, writers signing books, all in good Holiday cheer.
So if you like to read plays and want a copy of your own to have and hold in the sanctity of your very own home, I suggest you click
here
and set yourself up with a copy. Go ahead, do it now.