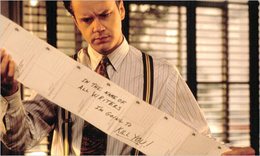 I've been around long enough to know what most aspiring screenwriters are doing wrong. Here's the three biggest mistakes:

1. Don't live anywhere that isn't Los Angeles. Note: This rule applies only to those writers who are solely committed to screenwriting. If you're a Portland-based novelist who wants to adapt your latest book for the screen, then fine. Stay in Portland and write your script. No reason to torture yourself apartment hunting in the Valley and adapting to a life of endless sun and collagen. Or maybe you're a New York playwright who wants to try your hand at screenplays. Fine. Stay in your Brooklyn garrot. No reason to leave the core of your mojo, the place where you feel most creative. After all, Los Angeles has nothing for playwrights. It hates theatre; and by extension, it hates you.

But if your sole goal is screenwriting, there is only L.A. That's where the creative decisions are made, regardless of where movies or TV shows are actually shot. God knows if I have to hear another New Yorker boast about how many movies are being made in New York -- as if somehow that means the whole industry is moving there -- I'm gonna hafta go upside someone's head with my laptop. Living outside L.A. as a screenwriter means not meeting a lot of industry and not having many chances to submit work to them and not hearing back why your work stinks, which is usually does. As a result, the already-lengthy process of writing, re-writing, submitting and being rejected (hopefully with notes), then re-writing, re-submitting and being re-rejected (again, hopefully with notes), etc. ... gets dragged out even longer. You need the fishbowl of L.A. -- with all its sharks, fake friends and competition from other writers -- to improve as a screenwriter in a hurry so you can have at least a tiny shot to get noticed before you're too old to matter. Or walk. Or feed yourself. In short, you need to fail to succeed, and outside L.A. you won't lose enough fast enough to ever win.

2. Stay away from Film Festivals (outside L.A.) and Screenplay Contests. Unless you're hawking a new flick you've actually directed or produced, screenwriters get little from film festivals. Yes, there are script competitions and occasional, washed-up Hollywood types for you to chat up, but that's now how screenwriting careers are made. Screenwriting careers are made by lonely people writing in small rooms in Los Angeles. Lonely people who occasionally venture out of those small rooms to schmooze. And winning the Northern Idaho Film Festival Screenplay Contest doesn't mean diddly to producers and agents in L.A.

Actually, to be fair, there is one exception; the Nichols Fellowship. I know someone who won that many years back and got a career out of it (and he was in L.A., by the way). But that's it. I've met at least a few thousand screenwriters over the years and, other than that one guy, I've never met another working screenwriter whose career actually started with winning a script competition. If you want to enter a screenplay contest, go to Los Angeles. The entire city is one big screenplay contest. Show up, write hard, and wait.

3. Don't Pitch. Hollywood buys very, very few pitches. And the pitches it buys are generally bought from veteran writers. Why? Because it makes no sense to buy a pitch from an aspirant. If studios don't like your writing, they won't pay you in advance to write. They pay successful writers with proven track records to write because they know those guys can deliver. So if you're not one of those tiny handful of writers, stop pitching. Just stop. And spend your time writing spec scripts. In Los Angeles.

What about all those "pitchfests" and "pitchapaloozas" where newbies without credits pay money to line up in front of tired producers and pitch? That's not where hit movies come from. (Note: Once at the Austin Film Festival I watched folks wait for hours to pitch an exec from a major studio for one minute each. I felt so bad for those losers. Sorry, I meant people. Please don't be one of them. Trust me -- the person sitting across from you at one of those dubious events knows you can't write; otherwise, you'd be writing, not pitching. Pitching is a marketing tool, not a substitute for sitting in a lonely room for years and honing your craft before handing someone a script. And producers know that. They don't expect to find the next Shane Black at a "pitch-off". They just enjoy getting free trips to film festivals to watch you grovel. And I suppose there are groupies. Yuck.

So how do you break in as a screenwriter? Easy. Do the opposite of everything I just mentioned. Move to Hollywood, write your ass off and meet everyone you can. Join a writer's group, thrive on criticism (friendly and unfriendly) and get used to rejection. Know the market, study genre. And in your free time, when you're tired from writing, write more. A lot more. The only thing that's going to get you to the next level is the quality of your work.