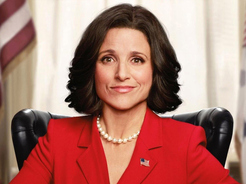 It's called Veep, OK? We loved her cuz she was the underdog, trapped in a joke job -- the vice presidency. No real power, lots of painful media scrutiny, all those opportunities to blunder and few to succeed. That's a table set for farce. Good, funny TV.

Make her the Prez -- even fleetingly -- and it ruins the joke. Once she has actual power she's not our favorite, scrappy little comic heroine.

Yes, Julia Louise-Dreyfus is still super-funny and the jokes are still sharp, but come on, this is worse than when Miles married Daphne, worse than when Hot Lips started being nice, worse even than when Archie became, well, tolerant.