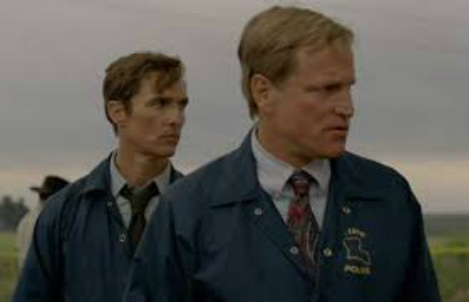 Apparently HBO realized the target audience for
True Detective
, which I have to think is middle-aged white guys (read Me), would be too tuckered out after half a day of Superbowl-related viewing to watch a dark, police procedural -- that other mainstay of our demographic. So we were forced to interact with our families Sunday night and wait another week for Episode 4 of this twisted, brooding show.
But after three episodes, it's time to look back and ask – Who's the better actor, Harrelson or Mcconaughey?
I mean they're in the same show, written by the same writer, and they're both portraying southern cops. That's a pretty even playing field, right? So, dear readers -- most of whom, I assume, are writers and actors -- let's talk Acting Chops ...
Firstly, Mcconaughey's been swimming in some deep method, not to mention make-up (Astoundingly, he actually appears
older
than Harrelson). Yes, Rust creeps around like the depressed guy he should be, considering all he's lost (his family). And sure, Rust's inner darkness compelled us in the first episode as he blankly gazed out car windows and occasionally grunted about the meaninglessness of all human experience. But Mcconaughey's approach is hard to sustain, especially when, in later episodes, Rust must communicate. Or when he goes on a double date with Martin (Harrelson) and his implausibly young wife (Michelle Monaghan, playing Maggie). Suddenly, the story has t
o bend to accommodate Mcconaughey's method-induced darkness, which is, after all, merely a condition. Rust, the guy who seems almost on the spectrum, is expected to party it up at a barn dance? Does anybody really believe Maggie would set him up with her best friend? Conclusion: there's a long-term story cost to Mcconaughey's method. Note to actors: make yourself into a brooding, simmering void and we'll have trouble buying you as a chatterbox later on when the writer needs you to help tell the story. Or when you -- again, this is hard to buy -- spontaneously decide to mow your partner's lawn and flirt with his wife.
On the other hand, Harrelson pretty much plays Martin Hart the way he plays everything – as himself in the situation. Or at least as a shade of himself. Yes, he's incorporated a small crutch; he keeps his jaw clenched,
Sling Blade
style, almost all the time. I assume this is intended to help us distinguish between Woody, the funny fella we've known from so many movies and TV shows, and Woody, the now-serious cop. And it works well enough.
But Harrelson knows the key to just about all acting is to turn everything into an
action
. And as proof, I submit this entertaining little
CLIP
from Episode 1 ("I'm just a regular-type guy ..."), in which he turns a snippet of a seemingly innocuous monologue into an active dramatic scene. Watch him build to the moment where he drops his little, dirty joke on the interviewers. His action? He's
testing
them. That's what he's playing underneath that little monologue where he talks about the different types of detectives. He knows they're not just asking about the weather and he suspects they think he did something wrong, so he tests them.
What can I get away with? What will they let me say? I think I'll jerk their chains and see how they react.
OK, I'll stop trying to interpret the subtext of Nic Pizzolato's well-written, compelling character. But it shows you what a great actor can do by simply playing an action and using the words as a tool. That's how Woody serves the story. But when Mcconaughey is soaking up audience sympathy with the mere portrayal of a condition, he burdens the story. Yes, he's a great actor and the show's basically working well, but Mcconaughey's method sometimes gets in the way. And so far, in
True Detective
, Woody's doing more with action than Matt's doing with method.