Yup, the gang's all here to see a funny play written by Greg DePaul ...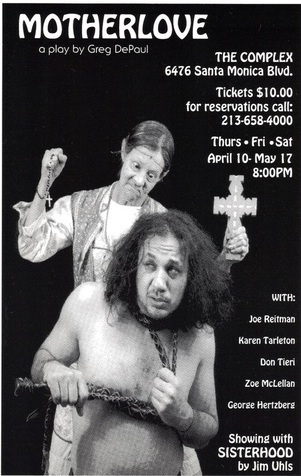 Here's the ad for a comedy I wrote, directed and produced in Los Angeles. I know it looks a tad spooky (
Religion! Yikes!
), but it's actually funny as all heck. And I wasn't the only person to say so -- so did the
L.A. Weekly
and
Backstage West
.
Anywho, you get the idea. I'm damn proud of this play about a Catholic mom and her Satan-worshipping son. We got a chance to have some farcical fun with the church and motherhood at the same time. It also gave me something to do with all those old crucifixes I used to have around my garage.
Notice super-funny actor
Joe Reitman
getting religion at the hands of super-funny actress
Karen Tarleton
. They were a bizarrely funny pair. And BTW, that's his real hair. And that's her real hairnet. I spare no expense in the realism department. Too bad you weren't there.
Oh, and at the end of the play, the mom speaks to us from Hell! How's that for theatrics? I don't hold back when it comes to the funny. I let it all fly and pick the charred remnants off the stage afterwards.
Again, check out the awesome LAWEEKLY review of Motherlove.
Or the fantastic BACKSTAGE WEST review.
To inquire about rights to perform
Motherlove
, please email gvdepaul@gmail.com.
---